SAG-AFTRA talent can play a pivotal role in your film beyond a character in your script. Packaging a film with commitments from one or two names could help boost the profile of your film, attract equity investments, or even score distribution deals in foreign territories.
When you hire experienced union talent, working with SAG-AFTRA is inevitable. And, with union representation comes various labor provisions, paperwork, minimum wages, fringes, and residuals that you must adhere to, plan for, and pay.
While this may seem intimidating, don't worry. We've got you covered with this helpful guide on what you need to know when working with union talent for your next production.
What is scale pay for SAG-AFTRA performers? 
Let's dive in starting with scale pay. This is the minimum wage stipulated in every SAG-AFTRA agreement for each type of performer. Talent can negotiate higher compensation but can never receive less than scale.
There are six different SAG-AFTRA agreements to choose from based on the size of your budget. Each respective agreement scales wages up or down to accommodate your film's available financial resources. That's why it's vital to create a detailed budget before choosing a SAG-AFTRA agreement. Once you do choose, you'll commit and become a signatory to that agreement (more on that later).
What are SAG-AFTRA fringes?
Additionally, SAG-AFTRA provides its members with health benefits and a pension. Productions employing union members are responsible for paying into these programs in addition to paying performers' scale wages.
These additional payments, usually expressed as a percentage of the scale pay, are known as fringes. But, you don't owe fringes on meal penalties, forced calls, travel and living, or wardrobe. Also, pay ceilings exist per performer, per film, to limit how much needs to be paid into these plans. Check out the Showbiz Labor Guide for more information on fringes.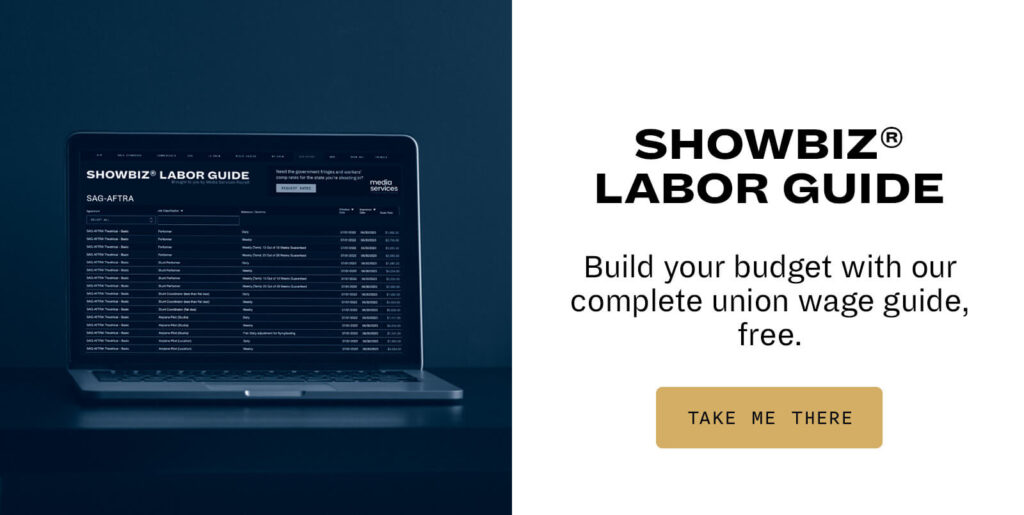 How much do agency fees cost?
Agencies typically take 10% of an actor's taxable pay as commission. Who covers that 10% is for lawyers and contract negotiators to decide, but in some cases, the production may be responsible for covering that 10%, in addition to wages. This is known as "scale plus 10."
If you're liable for paying the commission on your performer's wages, you may also need to pay fringes on those dollars. Make sure to consult SAG-AFTRA's list of commissionable expenses to find out what you may owe an agent, besides wages, and always consult an entertainment lawyer before making such deals.
Note that if a performer's agent is "SAG-franchised," you may not have to pay commission on scale wages in certain cities. Outside of these regions, scale wages are eligible for agent commission. You can find more info in exhibit 16(g).
Don't worry about missing payments to SAG-AFTRA and their members, an experienced payroll service can help. Reach out for more information.
What is a SAG-AFTRA Performance Bond? 
A Performance Bond works much like a security deposit where every production must give the union money up front before filming begins. Once the production has wrapped (and all wages and fringes are paid), SAG-AFTRA will release the funds back to you.
By putting a percentage of talent wages in a security deposit before filming (typically equal to two weeks' wages and fringes for each performer), the union gets the financial assurance they need. But, if you fail to pay the fringes in full and on time, you will face penalties and a claim may be made on the deposit.
On a tight budget, you may be anxious to get your deposit back after production. Whether you're a member or not, the Producer's Guild of America maintains the Independent Film Producers Task Force to help "accelerate the return of performance bonds."
How often do SAG members get meal breaks?
An essential factor to consider when budgeting is meal breaks. All actors are given a set number of breaks and/or minutes for meals, and you can even synchronize the mealtimes of talent and crew. But, if stipulated production meal periods are violated, you may incur a meal penalty.
It's always a good idea to give yourself a little financial breathing room for jam-packed days on set though, so remember to schedule breaks appropriately to avoid meal penalties.
What are rest periods and forced calls?
In addition to meal breaks, performers are entitled to a minimum daily rest period between dismissal and call time. There are two exceptions that allow for tighter turnarounds; one for location filming outside of the studio zone and one for on-location overnight filming.
A "forced call" is when you impinge on rest periods and call performers in before they get their minimum rest, or when filming goes over schedule. These will cost you. This is where thorough planning can literally save you thousands in penalties.
Sometimes roadblocks are unavoidable, and time runs thin, which is why it's so important to budget a little extra cash up front for possible setbacks. Another great reason to beef up your contingency.
Do performers get paid overtime?
Since films are notorious for going into overtime, SAG-AFTRA requires performers receive overtime pay. You should plan overtime using your schedule to inform your budget and the film's overall feasibility before the camera rolls. Since overtime can get expensive, it's best to be realistic and well informed so you can fund against it and be better prepared.
What do rehearsals, fittings, and wardrobe cost?
You've got your budget and schedule, now you can prepare talent for the creative work of production. Because costs for this vary depending on your agreement, here are a few things to know regarding rehearsals, fittings, and wardrobe.
For rehearsals, performers are commonly paid the same as their daily or weekly rate. If you run rehearsals for less than a week for a performer paid on a weekly scale, their wages can be pro-rated based on actual time spent in rehearsals.
Fitting costs can differ depending on time and more complicated costuming. You may also be responsible for covering wardrobe fees. If you ask a performer to use their own clothes for production, they are entitled to receive compensation for each outfit they bring on a weekly basis. That number bumps up for formal attire. Take a more in-depth look at the cost of fittings based on your agreement.
How do SAG-AFTRA travel and hold days work?
Once fittings and wardrobes are settled, it's time to talk travel and hold days. When travel is required to a location inside or outside the 30-mile Hollywood zone or the eight-mile zone in New York, you must reimburse performers per mile travelled. If you provide transportation for your performers, you aren't required to remit mileage payments. Check out the details on travel, including booking commercial flights for talent.
If travel to location consumes an entire day, you must pay performers their normal rate for that day, even if no work is rendered. There is potential for leeway here for weekly performers that will depend on your chosen agreement and the type of performer. It's best to presume travel days will be paid when writing a budget.
Often, for location filming, you will also need to provide lodging and a per diem. A per diem is a minimum payment to talent to pay for meals when they aren't provided meals.
Hold days are on-location working days when a particular performer isn't needed and will cost you the performer's normal day rate. This is meant to compensate talent who are far from home and unable to take another job on those days off.
It's essential to weigh the expense of a hold day against transportation. In some cases, sending an actor home a short distance may be cost-effective for those hold days. In other cases, paying for those hold days may be more cost-effective when filming in more remote places. Creative scheduling can minimize these expenses.
Does SAG-AFTRA require liability insurance?
Insurance is a crucial component in production and SAG-AFTRA requires the purchase of comprehensive liability insurance coverage. The plan must be in effect during production, and at any time a SAG-AFTRA member is in your employ.
Choosing the right plan can be tricky since every film's needs are different, but we've put together a guide to production insurance to help. Always make sure to consult a broker before purchasing a plan. Having the right coverage, and enough coverage, can save your film in a tight spot.
What is a SAG-AFTRA residuals reserve?
On top of insurance, a SAG-AFTRA residuals reserve is required. Similar to a Performance Bond, this is a deposit funded by you and held by the union to pay performers' residuals. The amount that reserve is funded is based on pre-sales abroad and projected returns at the box office, on TV, SVOD, etc. However, with the right financial assurances you may not be liable for funding a residuals reserve.
A Distributor's Assumption Agreement (DAA) places the responsibility of gross receipt reporting and residual payments on the shoulders of the distributor. A Collection Account Management Agreement (CAMA), often referred to as "the waterfall", is the most effective way to make sure anyone with a financial stake in the project agrees on when to get paid.
For many producers, managing and executing the waterfall is a job that proves easier in another's hands. Hiring a collections company to administer your CAMA saves time and money and may provide an additional incentive for SAG-AFTRA to waive the residuals reserve requirement.
You can check SAG-AFTRA's full guide on financial assurances for more on this.
With DAAs signed, a CAMA in effect and managed, and lenders on an intercreditor agreement, you can avoid having a chunk of your film's budget sit in a reserve. If you are unable to successfully execute each of these financial assurances, SAG-AFTRA will likely require you to fund a residuals reserve.
Get to Know the Rules and Expenses Before Hiring SAG-AFTRA Talent
A thorough and accurate budget will be your north star when it's time to choose which SAG agreement is best for your film. If you still don't have a full-scale budget in place, hire a line producer or assistant director early to help write a schedule and create a budget for your film.
Creating a script breakdown and schedule that aligns with your budget is an important step to understanding who and what you'll need, where and when.
A completed budget means you're one step closer to becoming a pro at working with union talent. Next, you'll want to explore which agreement best fits your financial needs. Once you find the one that works for you, it's time to get comfortable with the unique rules and expenses associated with it. Once you're familiar with all the expenses involved in employing SAG-AFTRA talent, you're well on your way to understanding the best SAG-AFTRA agreement for your film.
The next step involves becoming a signatory to that agreement, but an important tidbit to remember: before applying for signatory status, you should have your funding and talent firmly in place. Always begin the application process at least six weeks before any rehearsals, fittings, or filming are set to begin. You cannot begin working with, or paying, talent until you or your business entity (usually an LLC) is a signatory.
Stick with us, we discuss that process in our next piece, SAG-AFTRA Explained: 6 Steps to Become a Signatory.
---